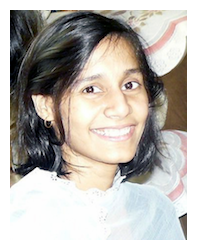 Hello, I am Anu.
I welcome you to my world of art! I hope you enjoy browsing through it and find it interesting. Art is my passion. I like doing new things and experimenting with things around me, you'll see these experiments in my work. I have affinity towards learning interesting new things.
Well, what can I say about myself? To begin with, let me tell you who I am, from where I am and what I enjoy doing. My name is Anu, I grew up in Kharagpur, which is in West Bengal, India and we recently moved to Bangalore after my father retired. I live with my wonderful parents and am blessed with a very nice brother and elder sister.
I enjoy painting using a variety of media – water colors, acrylic, fabric, glass, poster, oil-pastel, pencil and charcoal. Apart from painting, I love playing the Synthesizer (which I am learning), photography and making handicrafts. Designing on teracotta pots and clay is also something that I am quite passionate about. Sometimes I write about the world or life in general and express my feelings in the form of poems and short compositions.
I also enjoy playing with little children and teaching them. Until a few months back, along with my neighbor, I used to teach painting to young children every Sunday. Here is a little bit about those art classes.
I never received formal education in a school. To some extent, because there was no school for children with special needs in Kharagpur, where I grew up. I was taught a few subjects by my father at home and I have learnt computers and others on my own thereafter. I received my GED certificate (certificate of high school equivalency from American Council of Education) in 2013.
I love roses and my passion for drawing started from there. I used to draw roses as a kid and over time, I taught myself to draw, paint and create other things. I did receive some guidance from Ms. Sharmila Roy which I am grateful for. I recently completed my Chitra Visharad Bhaskar-II (Seventh Year) in Fine Arts conducted by Pracheen Kala Kendra, Chandigarh.
I want to be a good painter and musician. I want to make my own identity. I'm happy with what I am and am enjoying myself.
PS : Some people don't believe I am able to create all these works of art in my "condition" (Did I mention that I have arms that extend only till my elbows and legs till knees?), but the truth is, when something gives you joy, the pieces turn out beautiful themselves, as if the happiness one gets on creating these converts into a beautiful end result. I have set up a small page which describes how I do some of the things. Have a look, who knows you might find a handy tip or two :)