Canvas Narratives – Anu's art exhibition would be held in Bangalore in from the 16th to 23rd of January, this year. This exhibition will be a display of an assortment of Anu's colorful paintings and other artwork. During this time, she will also be conducting an art workshop for children. The exhibition is being hosted by Bharatiya Vidya Bhavan and sponsored by the Infosys foundation.
Schedule | Invitation | Contact | About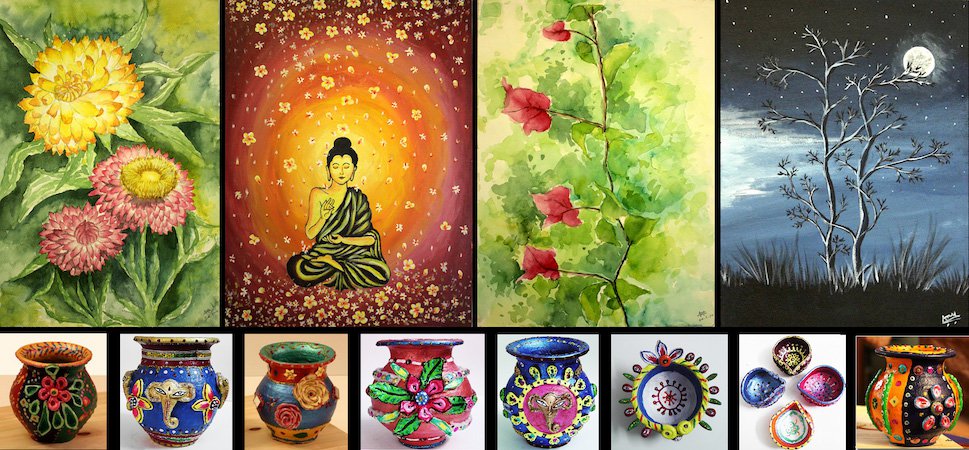 Schedule
Date and Time
Activity
Venue
16th Jan
(5:00 PM - 6:00PM)
Inauguration of the exhibition by
Sri Kamaljit Singh, Regional Director ICCR
Dr. Vijaya, Senior Film Journalist
ESV Hall - Bhartiya Vidya Bhavan (map),
# 43, Race Course Road,
Bangalore – 560001, India
Phone: +91-80-22267421/22267303
www.bhavankarnataka.com
17th Jan - 23rd Jan
(10:30 AM - 6:30 PM)
EXHIBITION
19th Jan & 20th Jan
(11:30 AM - 12:30 PM)
Art workshop for children
BBMP Public School, Srirampura
I am excited about my upcoming art exhibition at Bharatiya Vidya Bhavan, Bangalore starting on 16th Jan. Would love it if you could come by and provide your feedback, thoughts, ideas.. or just to say Hello :)!

Posted by Anu Jain's Palette on Sunday, January 10, 2016
Invitation

Contact
Anu Jain (anujain1 [AT] gmail.com)
Abha Jain (abhajain [AT] gmail.com)
Trilok Jain (trilokj [AT] gmail.com)
About
Anu creates beautiful paintings using a variety of media – water colors, acrylic, fabric, glass, pencil and charcoal. The subjects of her paintings are varied, as she loves to learn and to experiment, focusing primarily on nature. Her paintings usually have a lot of detail.
The amazing thing about this story is the fact that she is handicapped and was born with her arms extending only till her elbows and legs above her knees. Anu paints by holding her brush in between her elbows. Her freedom to move the brush is limited by this fact, and it takes considerably more time and effort for her to create art. But, beating her handicaps, she bright, hardworking and a lot of fun to be with.
Because of lack of special schools in the area she grew up in, she has no formal education; she received her primary education from her father at home. Anu taught herself computers and other subjects thereafter. She received her GED certificate (certificate of high school equivalency from American Council on Education) in 2013.
Anu has always been passionate about arts and painting and has learnt to do most of it on her own. She has received some guidance from Ms. Sharmila Roy. She has completed her Chitra Bhaskar Part-II (Seventh Year) of Pracheen Kala Kendra.
Apart from drawing, painting, needlework and other crafts, Anu writes poems, is an avid photographer and is learning to play the synthesizer (strictly no fingers!). Until some time back, Anu used to teach arts and painting to children in the age group of 3-10 years. She has also organized art and crafts workshop for children.
Her first exhibition "AnuDarpan: Anu's Reflections" was held at Gallery G, Bangalore in May'2008. After that she exhibited her artwork at Artbeat – an art exhibition organized by Specta, IIT Kharagpur in March'2014. She has also participated in the All India Fine-Arts (Painting) Workshop cum Exhibition organized by Pracheen Kala Kendra in Patna in Sept'2014.